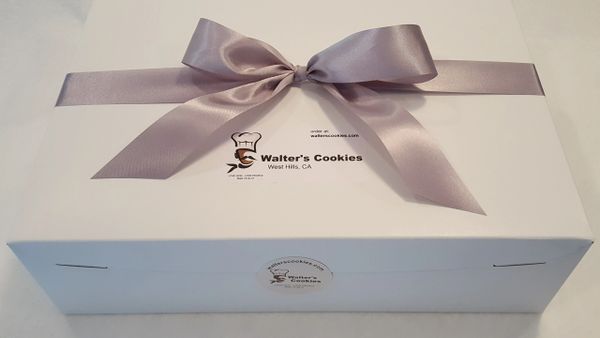 Gifts for All Occasions
Shop for Walter's Cookies delicious cookie gift boxes for any occasion, from birthdays, weddings, baby showers to holidays.

Delight the taste buds of someone special with a happy birthday gift box filled with a delicious assortment of Walter's Cookies mini bites.
Order an assortment of Walter's Cookies mini bites to celebrate the holidays with family and friends. 
Include a customized label on each package of cookies. 

Delight someone on your Christmas gift list with a holiday gift box filled to the brim with Walter's Cookies mini bites. The mini bites arrive in a beautiful gift box topped with a hand-tied ribbon. 

Whether you are celebrating a special milestone like a birthday or simply want to show your appreciation, Walter's Cookies mini bites are the perfect gift to send. 

Customize your gift by adding a coffee mug, customized label and a personalized note card expressing your sentiments.  Signature gift box cookies are packaged in packs of two minis each. 

Our cookie gifts ship fast and are delivered directly to the recipient's door. If you are in the West San Fernando Valley area, you may select hand delivery. Requests for next business day driver delivery may incur an extra fee (order must be received prior to 5 p.m.). 
Reviews